This Site Was Built With You In Mind!

How to Connect Phone to Car Stereo, Use a Miccus Mini Jack
by Eddie Carrara
| | |
| --- | --- |
| It's so easy to connect a phone to a car stereo, a caveman can do it, OK, maybe not a caveman, but there is no need to spend a ton of money on a new Bluetooth car stereo. All you need is the Miccus Mini-jack. It's extremely easy to install and pair up. Once installed, you can stream audio from your smartphone, iPod, or any other Bluetooth wireless device, right to your car's stereo, literally within seconds. | |
I recommend the Miccus mini jack because I own two, one for my daughter and one for me, and I only had one problem, leaving my car because my favorite song is playing, lol. I wanted to stream music from my phone to my car stereo, but I didn't want to spend a ton of money, and I wanted to do it wirelessly. 
Two things I can't stand, radio commercials and a bunch of wires hanging in my car. It seems that every time I reached for my drink in the cup holder, I was fussing with cables, and at the same time, there was a commercial on the radio blasting out an advertisement, but those days are over.
As you can see in the pictures, the Miccus mini jack is tiny but extremely useful. Someone put a lot of thought into this little Bluetooth wireless device. It's a small device; it has a USB port for charging and a 3.5mm audio jack that plugs directly into the 3.5 mm audio jack on your car's stereo.
| | |
| --- | --- |
| How the Miccus mini jack looks installed. | |
Bluetooth Wiring Options
What? You don't have a 3.5 mm audio jack on your car stereo, no problem, because, on the back of most car stereos, there are RCA jacks. The Miccus mini jack comes with an adaptor to connect to the RCA jacks on the back or the front of your car stereo. Miccus has recognized that there are many different options for hooking up their device, so they provide three combinations of wire sets to meet your needs in the box. As I said, a lot of thought went into this fantastic little device.

Here is a look at a couple different RCA input jack styles 
Charging the Miccus Mini Jack
The Miccus mini jack comes with a USB port for charging. Most phones today come with the same kind of charger. All you need to do is charge it from your phone's car charger. (USB wires included, but no charger) If you're like me, you probably need more than one USB port for your car charger, so it's a good idea to update your car charger to a 2 or 3 USB port charger. Then there will be plenty of room for the Miccus mini jack. 

The Miccus mini jack will hold a charge for about 7 hours, but I like to keep mine plugged in all the time, it just makes it easier, and it's always completely charged. Some car stereos have a USB port right in the front panel like my daughter's car (see the picture), so you can keep the Miccus mini jack plugged into the stereo without any wires hanging.
Size Does Matter!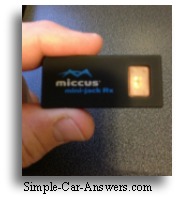 Another great feature of this Bluetooth device is the size; it's tiny, so it's easy to hide. My AUX jack, along with my power port, is located in my center console, so I install the Miccus mini jack once and never see it again (see the pictures). If you have it installed in front of your car stereo like my daughter's car, you don't even notice it there because it's so small.
Note: New to the Miccus Bluetooth family for 2015 is the Miccus Mini-jack AX4 with a built-in microphone for answering calls. For cheap money, you can afford to own high-end accessories for your vehicle or home.
Pairing the Miccus Mini Jack to Your Phone
Pairing the device to your phone, iPod, or Bluetooth device is easy. It takes less than ten seconds to do, and once you pair it, you don't have to pair it every time you get in your car; it stays paired. So when I leave my car, the device automatically shuts off. When I return, the Miccus mini jack automatically connects to my phone. Another nice feature is if I get a call while streaming music, it becomes a hands-free device, the music automatically shuts off, and the caller's voice comes through the car speakers. That was pretty exciting for me. When the call is over, the Miccus mini jack automatically goes back to the music.

Optional Bluetooth Adaptors

Miccus Mini Jack Features

Automatically connects to your phone when reentering the vehicle

USB port for charging, plus USB wire

Multiple wiring configurations in package

Automatically switches over from phone to music and vice versa

Use it for home audio, car audio, headphones, and speakers,
Do Your Research Before You Buy
If you're on the fence about this device or consider some other Bluetooth device, do more research. Read customer reviews. The best way to judge a product is by customer reviews. I looked at the features and prices of many different Bluetooth wireless devices, what sold me on this one is the way it automatically pairs up with my phone when I return to the car, its miniature size, and it's not hanging from a wire.

---
Connect Phone to Car Stereo Video
If you have any questions, leave them in the comment box. If you have friends that want to go wireless, like this on Facebook, share it on Twitter and Pinterest, the buttons are all over the page, and I would appreciate it.

comments powered by
Leave Connect Phone to Car Stereo page and return to Simple Car Answers home page