This Site Was Built With You In Mind!

Why SimpleCarAnswers?
by Eddie Carrara
Hi, I'm Eddie Carrara, Creator of Simple-Car-Answers.com, and I have been in the car repair business since 1984. I started working on cars right out of high school. Currently, I am an ASE Certified Master Honda Technician. I have had some formal training from the Honda Training Center in Windsor Locks, Connecticut, but for the most part, I am a self-taught mechanic, working side by side with some of the best mechanics in the business. 
I was tired of all the BS that was happening in my shop, mechanics up-selling services that were not necessary, installing products that were not OEM parts, then charging the customer OEM prices (Original Equipment Manufacturer), scams that are recommended by upper management to increase sales. I was thoroughly disgusted with the misleading advertising just to get the customers to walk through the door. That's why I created Simple-Car-Answers.com; I wanted to reach out to car owners who need some HONEST automotive advice.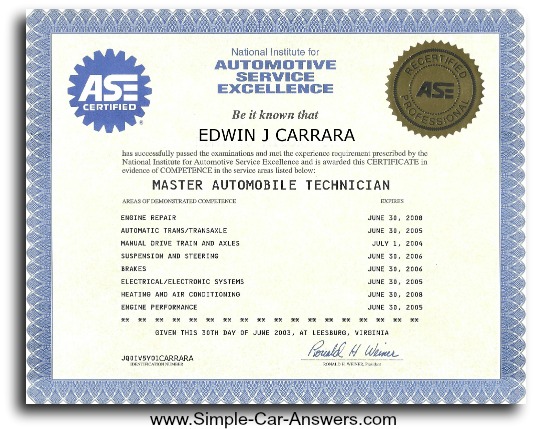 This site was created with the idea that I can reach out to a plethora of people who just need a simple answer to a question about their car. I started writing automotive repair articles and then published them on the web. Writing those articles opened my eyes to a growing problem with car owners and some DIYer's; they have questions about their cars, but they don't know where to go for answers. 
 Simple Car Answers.com is a website built for the person who just needs a simple answer about a problem they are having with their car, someone who needs advice on what their mechanic is trying to sell them, or if they have a question about how to fix something on their car. Writing articles about common car problems has helped me understand that there are people worldwide looking for answers to a simple car question; hopefully, this site will provide you with what you're looking for.
I like to think I'm passionate about providing you the very best automotive repair advice possible. I run this website by myself with absolutely no one looking over my shoulder; I don't have a boss, manufacturer, garage owner, or partner telling me what to say, write, or do. The information here is written by me, for you, the consumer. 

 Rest assured, any of the products or services mention on this site are ones I have either used personally or I truly believe it is the best choice for your automotive needs based on my two and a half decades of experience in the automotive repair business. That is my honest promise to you. I welcome all car repair questions and will answer each one. Thanks for visiting.
---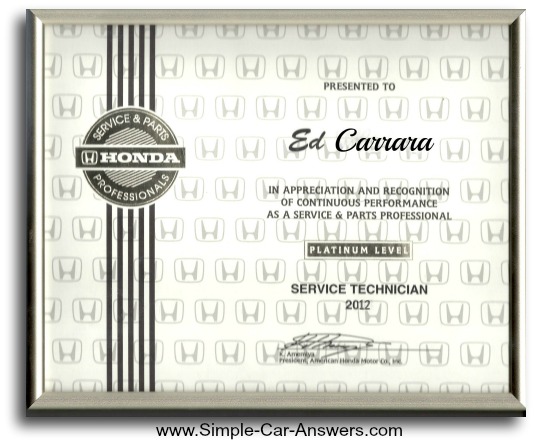 ---
 Here's a look at some comments I received from readers over the years!
Jason L 9 months ago
Hey Eddie,The mechanics did a great job and fixed all of the noises. They had told me that it had something to do with the exhuast, but they weren't 100%, so after some tinkering they had fixed it, and it was free of charge. (I was also getting some other work done as well).Just wanted to say thanks again for the quick responses, I've bookmarked this site and will be sharing your links with my friends.Have a great day,
- Jay
---
Danny 8 months ago
Hi EddieGreat article. I drive a 99 VW Golf and there is a rattly noise coming from the passenger side of the car (front wheel i think but haven't been able to fully confirm where noise is coming from) when driving over uneven surfaces. It feels as if something is loose, maybe a problem with a strut?Also, there is a popping noise occasionally when im turning hard at low speeds. Could the two problems be linked??Let me know if have any suggestions Eddie!Many thanks,
Danny
---
Diesel77 6 weeks ago
Hi Eddie - this is such a great article and I've bookmarked you as my future resource for all car noises! I've had a search through previous responses for my car noise and the closest I've come across is a belt problem, but I'd like to double check. I have a 2004 Toyota Yaris and I hear a high pitched squeal when I stop the car. The squeal is constant and it occurs whether I am in neutral or in gear but it stops as SOON as I put my foot on the accelerator (again, even in neutral). Strangely, when I start the car from cold it doesn't do it straight away - it needs maybe 5 -10 mins of warm up before it squeals. It also happens whatever the weather! Thank you for any ideas you may have - and also for all the responses you've given already - you are so helpful!
- Ali
---
Paul 6 weeks ago
Eddie,Just to update you on my Honda Pilot issue, it was a heat shield that became loose on the side I hit the puddle, just like you advised.
Thanks, 
Paul
---
dmitch 5 weeks ago
Thanks so much for your so quick reply. i will check out where the squeal is coming from--my son drives it now so i will need to check it myself in the a.m. when it's cold --today was too warm for it to make the noise.a local mechanic checked it out and said it was the rack and pinion. I do not have experience with car repair but am i wrong to question whether it's plausible that the rack and pinion could be broken on a 110,000 mile 2000 camry that's not been in a collision?
There is some funny wear on 2 of the tires too. don't know if that means anything or is just a coincidence. that could be my son just not keeping proper tire pressure the last few months he's been driving the car.thanks again it's really cool that you take the time to answer our questions
Thanks again.
---
scribs76 2 weeks ago
Hi Eddie the problem is resolved now.It was due to a bad tire or rim. I never knew a tire could make that much of a difference but it does.The axle needed to be replaced any how and thought the same thing that you had described.My first axle repair went well none the less. Still thanks again.
---
Would You Like to See The Original Comments?
If you would like to see the original comments and hundreds more, you can visit HubPages.com or AxleAddict.com and search Eddie Carrara there are literally thousands of comments and I also have more automotive/car articles there too. 
comments powered by