Charlotte County Ford Quick Lane
by Eddie
(Hooksett NH, USA)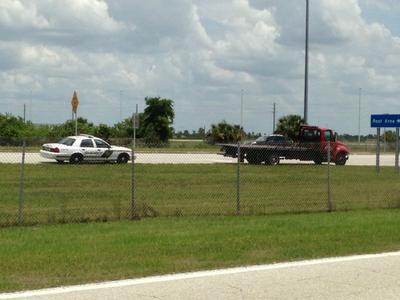 The Sheriff pulling over the tow truck
Charlotte County Ford Quick Lane


I needed to write this review because the guys at Charlotte County Ford took a bad day that looked hopeless, and turned it into a great day, there are a lot of great people in this world, and on this day, I found a shop full of them.
I was on vacation in Florida, we had driven down in our Lexus RX350, and we didn't have any problems with the vehicle while we were there, until we left for home. We had just left Naples Florida and we were about 45 minutes into the trip home when I happen to notice smoke coming from the back of the vehicle, a sure sign of a problem.
My first thought was that we may have picked up a plastic bag and it had stuck to the exhaust system, at least that's was what I was hoping for. I pulled the vehicle over to check the problem, and as I looked under the vehicle, all I could see was oil, it covered the complete underside of the vehicle, and it was dripping from one end of the vehicle to the other, this was not good!
I knew the vehicle took about 9 quarts of oil, so I said I would drive it until the engine started to make a ticking noise or the oil light came on, whichever came first. I drove to an exit which had a rest area, as I drove down the off ramp, the engine started to make a ticking noise, so I shut off the engine and coasted into the rest area and called AAA.
AAA sent a tow truck, and as the truck pulled up, the Sheriff was pulling him over because he went through a red light, just our luck! The Sheriff let him off with a warning and we were on our way. The tow truck AAA sent did not accommodate 4 people, so my family had to stay at the rest area while I had the vehicle towed to Charlotte County Ford. I had talked to the service manager (Dominic) previously on the phone and he said he could look at it.
To make a long story short, the mechanics found a pin hole in an oil bypass hose coming from the oil cooler. They were able to temporarily fix the leak by replacing the Dealer Item Only Hose, with a piece of coolant hose. The mechanics JJ and one of the younger techs were struggling to get the new hose on, and the service manager, Dominic and service writer, Robert Richey were overseeing the whole operation, I even had one of the parts guys there helping. I wish I remembered all their names so I could give all of them credit, they were all very helpful, not to mentions it was past closing time, so they were going above and beyond to help me out.
As you can see by the pictures, this was a crazy day, and this great group of guys at Charlotte County Ford really went out of their way to help someone from out of town. The most surprising part of the whole ordeal was the bill. When it came time to pay for their unbeatable service, the bill was less than $100, Dominic could have easily charged me $400 plus for what they did, and I would have gladly paid it, I was from out of town, broken down on a Saturday afternoon in Port Charlotte Florida, these guys could have taken me for a ride.
So I would like to thank everyone at Charlotte County Ford Quick Lane for helping me out that day on 4/27/13, you guys got me up a running and went above and beyond the call of duty. I highly recommend Charlotte County Ford Quick Lane to anyone who need service to their vehicle. Their address is;
3156 Tamiami Trail
Port Charlotte, FL33925
941-625-6141
www.charlottecountyford.com